Disability Sport Yorkshire (DSY) is an exceptional organisation which aims to address the inequality in access to sport for people with disabilities across the region. With a goal to make Yorkshire the best place in England for disabled people to improve their well-being through physical activity, play sport on a regular basis and become a sporting champion, it is an organisation that we have long-since admired and respected.
The annual DSY Awards Dinner is a staple in the charity's calendar and AYRE Events has supported the ceremony for the past two years. The event not only raises vital funds and awareness for the charity but is an opportunity to recognise and celebrate the incredible achievements of athletes, organisations, coaches and volunteers within the DSY community. The event was set to take place this year at the Elland Road Stadium before it was forced to postpone and then ultimately cancel.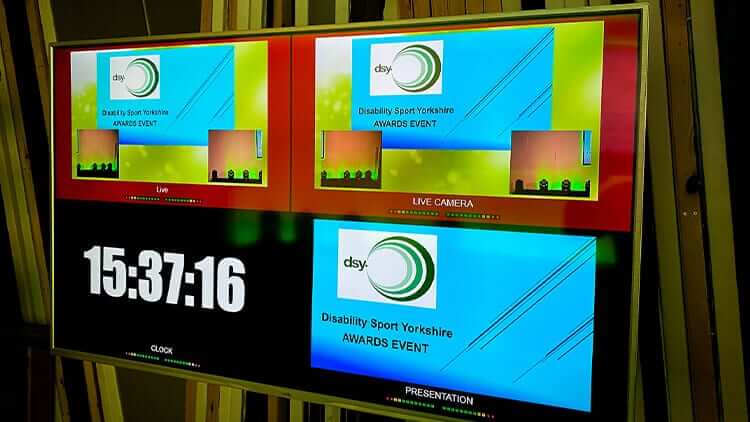 We know just how important the awards are to the charity and its community and understood the struggle the team would face in delivering an online event, and so AYRE Events stepped in to offer our support. Often it can be hard for those unfamiliar with digital events to envision how their event could be transferred into an online experience, and so we provided detailed advice and guidance on what was possible and how the event could run and even provided a demo of the system to the DSY board to ease their reservations and get them excited about the potential of an online awards ceremony.
Working from the dedicated studio space at our unit just outside Leeds City Centre, we were able to build a bespoke, accessible set with a spacious stage and ramp access for presenter Kevan Baker OBE as well as accommodate the core events team from DSY. The AYRE Events team took care of all the lighting, sound and filming requirements for the event and broadcast the event via YouTube. We advised using YouTube to stream the event as it's easily accessible for DSY's diverse audience and it's also an easy way to make the recording available for viewing at a later date. The ceremony has had over 800 views to date.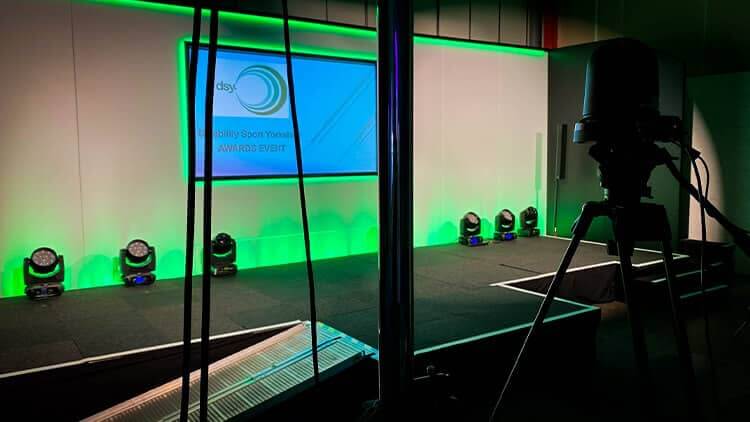 We created the opening sequence and all on-screen graphics for the event which was a combination of live presenting and pre-recorded videos with slides inserted into the stream as well as scheduled breaks for the audience and presenter. The show included opening and closing remarks from Gavin Walker, Co-Captain of the British Wheelchair Rugby and Paralympian, a message from DSY's new President and video messages from the finalists and winners. There was also a dedicated BSL stream on-screen throughout the broadcast and opportunities to acknowledge the events valued sponsors with logos displayed on stage during nominations.
It was an honour to be able to deliver a virtual event with DSY and we extend our congratulations to the winners and everyone involved with the charity. You can watch the ceremony and be inspired by the very worthy winners on YouTube